Sir Alfred J. DiMora Joins Cruise 4 Kids Charity as Board of Directors Member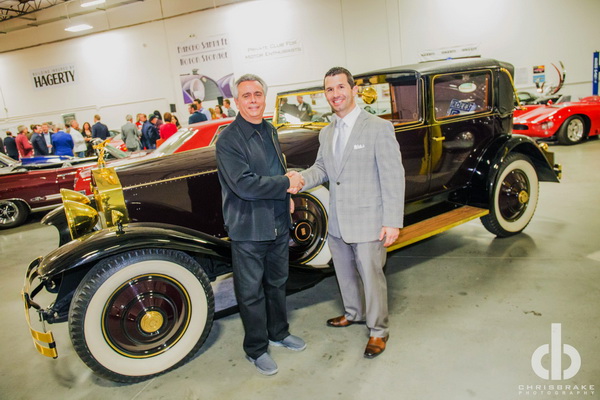 Sir Alfred J. DiMora, CEO of DiMora Motorcar, shaking hands with Nino Venturella, CEO of Cruise 4 Kids. The vehicle behind them is a burgundy 1931 Rolls Royce Phantom II with gold package that was donated to Cruise 4 Kids in 2014. Photo by: Chris Brake Photography


San Diego, California – February 9, 2016 – DiMora Motorcar founder, Sir Alfred J. DiMora has recently teamed up with Cruise 4 Kids, a 501(c)3 charity based out of San Diego, California. Cruise 4 Kids' mission is to raise money through charity events that support and fund other youth organizations on not only a local level, but state, federal and global level as well.
"When I first heard about Cruise 4 Kids, I knew it was something that I wanted to be part of," said DiMora. "I am ecstatic to be on the board of directors for such a great organization."
Cruise 4 Kids started as a sports and exotic car rally fundraiser in 2011 by founder, Nino Venturella. Building off of the success of the rally, he created black tie charity events called The Teddy Ball and The Bunny Ball.
"We are all about helping today's youth and using our resources to raise awareness and money to help charities," said Venturella. "It's wonderful to have Sir Alfred on our board of directors and we are confident that his position in the automotive world will be an asset to our organization."
The annual Bunny Ball is a black tie charity event held in the spring. The mission behind the Bunny Ball is to collect new stuffed animal bunnies to donate to sick and needy children. Similarly, the annual Teddy Ball is held during Thanksgiving weekend yearly and collects new stuffed teddy bears that are donated to comfort children in need.
"There have been many charities I've helped in the past, but helping sick and needy kids is dear to my heart, so when Nino approached me to volunteer on his board, I was very happy to help, especially when I found out that one-hundred percent of the proceeds go toward the kids. I hope my spheres of influence may help raise many more dollars to the cause," stated DiMora. "Cruise 4 Kids has a fantastic track record of raising much needed money and awareness for others in need."
The Cruise 4 Kids Sports & Exotic Car Rally invites high-end luxury car owners to participate in an intimate 40-mile car cruise through a predetermined area of San Diego and limited to 130 drivers. For those unable to drive in the rally, sponsorship packages are available to help raise money for youth charities.
Aside from his new position as a Cruise 4 Kids board of directors member, DiMora is also an entrepreneur and owner of DiMora Motorcar, having produced many limited edition luxury automobiles, and is currently producing the limited edition DiMora Vicci 6.2 convertible.
About DiMora Motorcar
Based in Palm Springs, California, DiMora Motorcar excels in providing distinctive, limited-edition automobiles and various transportation solutions and technologies. The DiMora Neoclassics series of luxury automobiles includes the Vicci 6.2, now in production, and the Adina, now in the prototype phase. DiMora Vicci 6.2 is known as the first true production rolling art on wheels and comes complete with an original piece of artwork by Zen Master Lee Sun-Don and a $1.2 million price tag. The artwork is replicated onto the hood and side panels of the DiMora Vicci 6.2 by the DiMora team of artisans, taking no less than 700 man hours to complete.
In the past, Sir Alfred J. DiMora co-founded the Sceptre Motorcar Company, whose Sceptre 6.6S received Best-of-Show honors at the 1978 Los Angeles Auto Show. DiMora also founded the new Clenet Coachworks, Inc., in the 1980's, to continue designing and building the Clenet series of automobiles. When President Reagan declared 1986 the Centennial Year of the Gasoline-Powered Automobile, DiMora's Clenet was selected as the Official Centennial Car, resulting in honors for DiMora and the Clenet at the Automobile Hall of Fame in Michigan. For additional information, please visit www.dimoramotorcar.com.
About Cruise 4 Kids
Cruise 4 Kids is a 501(c)3 organization that embodies the pay it forward mentality. Through their annual Bunny Ball, Teddy Ball and Cruise 4 Kids Sports & Exotic Car Rally, they raise money to support various charities that focus on helping kids. For more information, please visit www.cruise4kidssc.org.