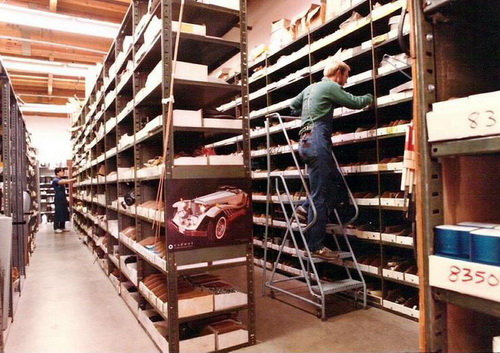 As most Clenet owners have learned the hard way, it can be difficult to find parts for cars that have been out of production for more than 30 years. We have some original Clenet parts on hand, and we have found sources for many others. We also have technical data to help us when a particular part must be fabricated from scratch. We cannot promise that we will find every part you will ever need to keep your Clenet in showroom condition. But we can promise we will try.
When you would like us to help you find a part, please tell us as much as you can about your particular problem. Tell us what Series it is, as well as the specific vehicle number (such as 223/250 or the VIN number). Identify the part as much as possible, such as any code stamped on the part, its color, etc. If you can email us a picture or two of the broken part, that is often helpful.
We have parts breakdown sheets on some sections of some models. A few are linked below, and we will continue to add more. Use the numbers on these sheets to identify each part you need.
When you think you have enough information to tell us what you need, send it to parts@clenetcoachworks.com and we will see if we can help. Normally, we will reply with a cost estimate and a forecast of how long it will take to get the part to you.
Shipping costs below are to USA destinations; shipping to other destinations may be more.
Clenet License Plate Holder
Part # CLE030
New, Old Stock
Compatible with Series I, Series IV, and also Series II with a spare tire
$65 plus $12 shipping to USA
Photo 1 Photo 2 Photo 3
Clenet Series II Exhaust Left
Part # CLE100
$100 plus $30 shipping to USA
Photo 1 Photo 2 Photo 3
Clenet Series II Exhaust Right
Part # CLE105
$100 plus $30 shipping to USA
Photo 1 Photo 2 Photo 3
Clenet Exhaust Tip - Raw - Series I/II/III/IV
Part # CLE110
$600 each plus $60 shipping to USA
Photo 1 Photo 2 Photo 3 Photo 4
Clenet Exhaust Tip - Chromed - Series I/II/III/IV
Part # CLE115
$900 each plus $60 shipping to USA
Photo 1 Photo 2 Photo 3
Clenet Series I Ashtray
$400 plus $30 shipping to USA
Part # CLE120
Photo 1 Photo 2
Clenet Series II Ashtray
$400 plus $30 shipping to USA
Part # CLE125
Photo 1 Photo 2
Original door mirrors for Series I/II/III
Special order
Estimate: $220 per mirror plus shipping
Raydyot pillar-mounted spot lamps for Series I/II/III/IV
Special order
Door Windows - Series I and IV
Rear Body Fittings - Series I and IV